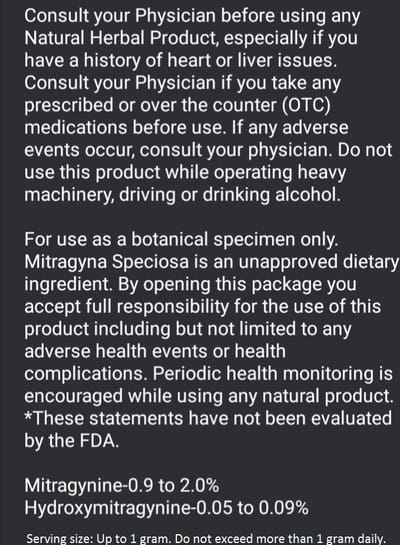 DO NOT EXCEED MORE THAN ONE GRAM DAILY
Consult your Physician before using any Natural Herbal Product, especially if you have a history of heart, liver or kidney issues. Consult your Physician if you take any prescribed or over the counter (OTC) medications before use. If any adverse events occur, consult your physician right away, and discontinue use. Do not use this product while operating heavy machinery, driving , drinking alcohol or using illicit drugs.

For use as a botanical specimen only. Mitragyna Speciosa is an unapproved dietary ingredient. By opening this package you accept full responsibility for the use of this product including but not limited to any adverse health events or health complications. Periodic health monitoring is encouraged while using any natural product.

Mitragynine - 0.9 to 2%
Hydroxymitragynine- 0.05 to 0.09%

Serving Size up to one gram. DO NOT EXCEED MORE THAN ONE GRAM DAILY

This product is not intended to diagnose, treat, cure or prevent any disease

*These statements have not been evaluated or approved by the FDA.